For many countries around the world, tomorrow (Sunday, May 12th) will be Mother's Day. A chance for us to shower our various mothers in love and appreciation and if you are the mothers, get lots of sincere love and a day filled with fun. Now, as much as getting a gift can be important for some on Mother's Day, I think the most important thing to think about is how to spend the day. You want to make sure that you get to celebrate it in a fun and exciting way, but also in a way that everyone will enjoy. Everyone is different though, which is why it can sometimes be hard to decide how to spend this lovely day. Sometimes, people spend Mother's Day with the whole family, and there are big family events and celebrations, but other times, it is just the two of you. No matter how many of you are celebrating Mother's Day together though, you all deserve to do something fun and that you enjoy. So, if you are struggling to find inspiration, here are a few suggestions for fun ways to spend Mother's Day.

Take a class together
It's always fun to learn something new, especially when it has been something you've meant to do for quite some time. Use Mother's Day as an excuse to go out and learn a new skill. If both of you enjoy doing crafts then perhaps a pottery class? Or if you have decided that you want to be able to make more than toast, why not a cooking class? No matter what type of class it is, it will be a fun way to spend the day because you will walk away from it having learnt something new but also having spent lots of time experiencing it with someone you love.

Shop til you drop
Even if it something as simple as window shopping, most people enjoy going on a shopping spree. Go out and spend some time in each others' favourite stores. Maybe even pick out some outfits for each other and have a fun time laughing and taking pictures in the change room. Or, if you couldn't find a gift, then maybe this is the perfect time to let Mom choose a gift for herself. Even if you don't buy anything and go into any stores, it could still be fun to peruse the window displays and talk about what you enjoyed.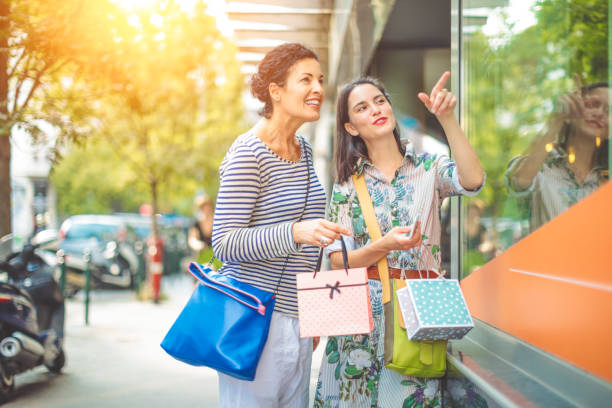 Time for a movie
This is not the same thing as saying that you should be anti-social all day and spend the time stooped over your laptop catching up on series episodes. Turn on your tv at home and watch an episode or two of a series you both enjoy or watch something that you've been meaning to watch but just haven't had the time. If you're feeling like going out, you could even go out to a new movie together, share a bag of popcorn and be your own movie critics afterwards. Whether it is at home or out, watching a movie together is a great way to bond and also relax together.

Visit the salon
If there was ever an excuse for pampering it is Mother's Day. Treat the two of you to a day at the spa/salon doing all of the relaxing treatments you both enjoy. Or, if you don't feel like giving your wallet a heart attack with fancy spa treatments, why not have your own spa day at home? Give each other manicures or pedicures or try new and colourful looking face masks. Just because you are at home, doesn't mean you can't feel glamorous with your DIY spa treatments. Either way, you both deserve to feel pampered and pretty – especially on Mother's Day.

Sweat it out
Exercising can be a fun way to bond if you make it enjoyable. You don't have to go and spend three hours in the gym with each other, but why not try some other form of exercise that you can both enjoy. My mom and I went running together on holidays, and to be honest, we were more focused on just chatting than the actual running, but we worked up a sweat and had fun either way. If both of you don't mind going for a run, then try that. You could also try doing a yoga class or a hip hop class at home or with a YouTube video as guidance, or you could simply go on a walk together. As much as exercising is not always everyone's favourite bonding activity, it is a lot more fun when you are 'suffering' together.

Picnics and parks
If the weather looks friendly outside, then why not take advantage of it? If you happen to live in an area where there are lovely parks, then why not go and enjoy the sunshine and the fresh air in a beautiful natural area? If you don't happen to have any nice parks close enough to where you live, then who is to say you can't have a picnic in your garden? You can still enjoy the sunshine and hear the birds chirping, and the bonus is that you don't have to go very far. Pack yourself a picnic meal (it doesn't have to be dainty finger foods if that isn't for you – even leftover pizza and a packet of chips can make good picnic food) and enjoy being outside.

Enjoy a nice meal
Food is a great way to bond and spend time together because, after all, who doesn't like food? If there is a restaurant or particular cuisine that you two have been desperate to go out and enjoy, then this is the perfect occasion. Go and enjoy a beautiful evening out together where you can eat lots of food that you enjoy and get some privacy from the usual chaos of life. Or, if you would prefer to stay in, why not make a meal together? You could turn it into a Masterchef-like competition, or just see if you can make something tasty from the ingredients you have in your fridge (if neither of you happen to be great cooks). Even if the food doesn't come out great, you will have still had a fun evening cooking together (and you can always order takeaways).

Host a small event
Here is another activity that you could have lots of fun doing. If you have lots of friends who you know will also be celebrating, then why not host a garden tea party or a brunch or even just a small gathering where everyone can sit together and have a good time? You will not only have fun planning and organising things together (because it is a lot easier when there is someone to help you with logistics) but you will also be able to spend time with your friends, and sometimes you can have even more fun when you are celebrating with other people. Who knows? You might decide that the two of you are so good at hosting events that it becomes a regular thing – you never know until you try.

So there you have it. Whether it is just for two people or a large family, all of these suggestions could be adapted to suit the number of people you need. Even if you don't necessarily have someone to celebrate with (say you don't have a mother figure in your life, or you are not a mother yet), there are still ways to celebrate this day. Maybe go out with your friends and toast to future Mother's Days, or volunteer or just you and your best friend or boyfriend have a good time together. No matter how or who you are celebrating with, take this day (from me at least) as an excuse to treat yourself and have a good time. I hope that you enjoyed this post and found something useful in it – maybe some inspiration for what to do or an idea for something to do next year? Whatever it is, I hope that you all could find something useful and helpful in this blog post. Thank you for reading – please don't forget to hit that like button if you haven't already, and if you have any fun Mother's Day traditions, please share them in the comments section! Happy celebrating everyone!

Lots of Love
Blondey on a Mission xxx