I love stationery. Whether it is pens, coloured markers, notebooks or washi tape, I can easily say that I am stationery obsessed. Though, with the popularity of the stationery market these days, how can you blame me? There are so many choices to make when it comes to starting or adding to your stationery supplies and collections – infinite colours and sizes and qualities that it all starts to swirl into a rainbow mess of creative equipment. My point is that there is stationery available for any situation that you could think of, and with this being said, it can be pretty easy to get overwhelmed by it all and decide to stick to that one black pen. Even though it is tempting to just say no to everything or walk out with your credit card balance dangerously far into the red zone, there are actually only a few essentials that can get you through almost anything. So, if you're like me and need help stopping yourself from buying everything (or you just don't know where to start because there are too many choices) here is my list of stationery must-haves that I use for almost everything and on a day to day basis. Hopefully, you find some useful information from this or even just an idea on what you might need to add to your desk.

Pens
This might seem obvious – how on earth are you meant to do anything without a pen? But everyone has different pen preferences so making sure you have the right pen is critical. For me, I use black gel pens (I never work in blue – don't ask me why it is just my weird thing), but some people may prefer ballpoint pens or pens in different colours. Whatever it is, having pens (at least two because Murphy's law says that one will run out when you need it most and then you are stuck trying to find some writing instrument in the forgotten crevices of your cupboard) is critical, so make sure you stock up on your favourite pens.

Notebooks
You can never have too many notebooks, and I will say this until the day I die. Notebooks are so useful because you never quite know when you'll need to jot something down or have pages and pages that you need to write, and you happened to forget to charge your laptop. Just make sure that you get the right type of notebook. For example, if you want to be doing lots of writing, a lined notebook will probably be a lot more helpful than just a blank one. If you were asking me, I'd say get one of each because you never know when you might need it. I go through about two notebooks a week and some need more so notebooks are definitely a useful item that you will never think was a waste of money or is just creating clutter.

Organiser/Diary
Most of us are very busy, and so having an organiser is a great idea to keep us on track and make sure we don't forget about any important events or something that needs to be completed. Now, a lot of people will say that you can easily get an app on your phone, but I am old fashioned and prefer to write things down and tick them off as I go along. Having a paper diary or organiser is a good idea because you don't need to worry about the battery dying or the memory being wiped. It is also very satisfying to have a paper diary because you can see how much you have accomplished and you get to tick/scratch things off as you complete them. There is nothing more fulfilling than looking at your day and seeing all your tasks ticked off, trust me.

Highlighters
Now that we have gotten those three more generic items done let's move on to the more exciting essentials. Highlighters are a must-have in my book because they add a zap of colour to otherwise quite bland colours of writing. Highlighters are also great because they can help you itemise and separate the sections and ideas in whatever work you are doing. You can highlight dates in one colour, names in another colour etc. The reason why this is a good idea is that sometimes it is hard to sift out and find the exact information you are looking for when it is all in one colour. If you have highlighted that info in one specific colour though, that makes your task a lot easier. Some people don't like colour-coding, but for me, I use highlighters almost every day because they help me to divide up my work and find different categories/ sections more efficiently and who doesn't love a little bit of colour?

General colours
By general colours, I mean markers, felt-tips, coloured pencils or crayons. Just because you have to write something down, it doesn't mean that it has to be in a generic, dull colour (like black or blue). Who says you can't have a little fun with it? I think that having different coloured pens, markers etc. are essential for work because, same as with highlighters, sometimes it is more helpful to have things colour-coded. Say you are studying for a test (I know this is more specific to students) – you can separate the different subjects by colour. While this might sound a bit tedious to do, it can make studying more fun to be reading things in different colours instead of just one, but it can also help you remember the details better because you will remember that everything in this section you wrote in red. This can help you categorise in your head and memorise better. If tests are not what is on your mind, then you can at least make things fun for yourself and write your notes or scribbles in different colours. Colour is just an easy way of making boring stuff like work more exciting.

Post-it notes
If you haven't yet been introduced to the beautiful creation that is post-it notes, then I'd highly recommend you go and treat yourself to a pack of them right now! Post-it notes are handy to have on a day to day basis because sometimes you don't want to haul out a notebook and start a whole new page for just one little thing you need to write down or remember. With a post-it note, all you have to do is write your little scribble on it (and there are different sized post-it notes depending on what you want them for and how large your scribbles can be) and then stick it to whatever surface you need. If you have something you need to remember to do on a particular day, you can add a post-it note to your diary. If there is something that you need to remember, you can put post-it reminders all over your room, and if you have something small that you need to jot down, post-it notes are ideal. Basically, post-it notes are baby pieces of paper that you can stick anywhere – useful for anyone and anything.

Pencils and erasers
Some people have forgotten how useful a pencil and eraser can be. If you ever need to write something down but are not sure if you might need to get rid of it (for example, you are thinking about meeting up with friends and want to make sure you have time for it so you write it in your diary, only not everyone has confirmed so it might not happen), then using a pencil is ideal. If what you wrote remains then you can either leave it or rewrite it in pen, but if things change, you can erase it. Having a pencil and eraser is particularly useful for writing in your diary or organiser, because of how quickly certain situations can change. If you're still not keen on a pencil because you don't want to sharpen it all the time, invest in a clutch pencil (just don't forget to buy lead for it). Voila – problem solved.

A sharpie/permanent marker
Sometimes it is useful to have a permanent marker lying around for when you need to do boxing or labelling or even just scratching off the price on a gift that you can't get the price tag off (because let's face it, usually those sticky price tags are impossible to get off). You may not need to use this every day but because you don't want to ruin your nice pens and markers for labelling arbitrary cardboard boxes, having a permanent marker lying around is not a bad idea, and it will prove to be a worthy investment.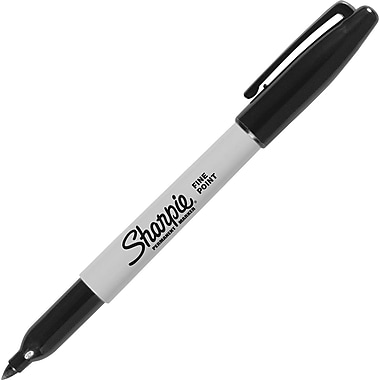 Cute pencil case
How can you have such fantastic writing equipment when you can't transport it anywhere? You wouldn't want to risk just putting it into your bag because then you could potentially lose it or the lid could come off, and suddenly there is an ink explosion in your new bag. Basically – you need something to carry your stationery because the odds are that you will probably need a writing instrument when you are not at your desk. There are plenty of pencil case options (varying in size, colour, style and price) and the reason why it is one of the essentials is that it just takes the hassle out of transporting your pens/pencils/markers everywhere. You can also have a pencil case (or cases) at home to keep your stationery organised and your desk uncluttered. It is not something that you will struggle without, but it will make your life a whole lot easier.

Something sticky
This is the last must-have on my list – something sticky. Sometimes you need to stick something up or put it in a book and leaving it loose is just asking for it to get lost. That's why it is useful to have some sticky substance at the ready for whenever you need it. Glue, sticky tape or prestik (the sticky stuff you use to put things on walls). You don't need to have all of these items, but they do have different uses and places where they work better. Glueing paper into a book will be a lot better than sticky taping it in and using prestik to stick a photo on your wall will have less damaging consequences than using glue. Basically, it doesn't matter what you do, but there always comes a time where we need to stick something somewhere so having at least one of these items will allow you to be prepared for when that happens.

I know – this may still seem a bit overwhelming, but at least this is more narrowed down than standing lost in a stationery store and being swallowed by the aisles and aisles of colour. I hope that you've found something useful from this list – maybe you've realised what you might be missing on your desk, or you finally have the confidence (now that things have been simplified) to amp up your stationery kit from that one black pen. If you think that I've missed anything out, please let me know in the comments section, and if there is one stationery item that you absolutely cannot live without, I would love to hear what it is. Please don't forget to like and subscribe if you haven't already and share with your friends! This blog post was in honour of World Stationery Week, so I hope you all indulge a little and treat yourself to a new notebook at least. I know that I will.

Lots of Love
Blondey on a Mission xxx