There are so many amazing places around the world that you can travel to. Somewhere tropical where the sun gently kisses your skin and the aqua blue ocean waves gently lap around your ankles. Somewhere more urban where you can feel the pulse of the city as you walk through the streets. Somewhere isolated where the sound of your footsteps through the mountains are the only sounds you hear, apart from the occasional cry of the birds and the rustle of the trees. No matter where you choose to go, there are always special things about that place that everyone wants to see — every location has their icons. Paris has the Eiffel Tour, the Champs Elysees and Notre Dame. New York has the Statue of Liberty and the Empire State building.  I've been so lucky to have been able to travel the world with my family, and one of my favourite cities in the world happens to be London England. Maybe it is the English charm or the cities energy, but something about it has always spoken to me. I happen to be in England now, on my way to start a ten-week course, so I wanted to share with you my top 10 of London. This may include some of the cliched tourist spots but it also consists of some of my personal favourite locations, and I hope that when you are done reading, you have the itch to go and check them out.

The London Eye
SO yes. Right out the gate, I know that this seems like such a tourist attraction and you may be right. It is something that most tourists gravitate towards, but with that being said, you have to ask why? Why do so many people wish to board this giant Ferris wheel? Well to put it simply, the view from the top is too splendid for words. The London eye has significant memory attached to it for me. This was the first thing that my boyfriend and I did on our very first trip together. From that spot in the sky, you can truly appreciate how beautiful the city is.

The London Dungeons
If you happen to be doing the London Eye, then why not do the London Dungeons on the same day? They are practically next door to each other. Now I am not the kind of person who is into horror movies and creepy stories, but the London Dungeons offers a different experience. Suitable for history geeks and people just interested in doing something unusual, the London Dungeons provides a beautiful, if somewhat creepy, experience of the history of London. I would recommend going with someone though, as there are certain parts that I would not have managed if I didn't have a hand to hold and a shoulder to turn away into.

Hyde Park
There is something for everyone in this beautiful park that spans over 142 hectares. There are statues to visit, gardens to explore, lakes to walk around and playgrounds for children. Even if walking isn't for you, there are bikes for hire everywhere, and you can enjoy the scenery with the wind blowing through your hair. What I particularly love about Hyde Park is that it is a great spot no matter what time of year it is and there are ways for everyone to enjoy it. My parents enjoy running through it, while I may enjoy hopping from cafe to cafe and trying out their different hot chocolates. No matter what your "thing" is, I promise you that Hyde Park will satisfy it.

Covent Gardens Market
Who doesn't love shopping? Me that's who but even I enjoy shopping in the Covent Garden Market. What makes this place so special is that it is a colourful mix of so many different things. There are the more trash pandary (read tourist junk store) types where you can get gifts and memorabilia by the dozen at such a low price, and then there are the more sophisticated chocolate stores and more upmarket brands. Not to mention that there are numerous stands where you can get beverages and snacks, and plenty of restaurants to suit all your needs. If you are looking for an exciting day of shopping and eating, I'd definitely recommend this.

The West End shows
Since I was a little girl, I have been in love with theatre. I don't quite know if it is the feel of the seats or the ornate stage, or how overwhelming it feels to be absorbed in the live show, but there is something about it that has always made me smile. Yes, the theatre may not be everyone's cup of tea but what is so great about the West End is that there are shows for just about everyone. If you would like to get tickets though, you can sometimes get ones at discounted prices if you go to the small ticket stands in the area and get tickets for the matinee show of that same day. But trust me, if I can convince my YouTube obsessed little brother to enjoy the theatre, then you will enjoy it too.

Il Posto
Food is always essential to have a good trip, and no place can be called excellent if there are not excellent restaurants to go with it. I've always been a foodie kind of gal, and one of my particular favourites is Italian. Yes carbs are evil, and they don't help when we're trying to be healthy but who can resist a freshly made pizza or a steaming bowl of pasta. For those looking for the best Italian meal you will ever have (outside of actually eating Italian food in Italy because who can top that), there is a small restaurant near the Victoria tube station called Il Posto. It is a traditional Italian restaurant where the tables are squished together, and the quality of the food is all that matters. I go there every time I am in London, and the food and service have never been anything less than spectacular. SO if you are in need for a good meal, look no further than Il Posto.

Big Ben
This is one of my favourite spots not because of Big Ben, but because of everything surrounding it. Yes, the iconic clock is a sight to behold, but the bridge over the Thames is the perfect photo spot (every angle is a good one here). Also, just over the river from Big Ben, is a street filled with diverse and delicious restaurant offerings (because food is just essential) and shops to quench our thirst for shopping. This location ticks all the boxes, by offering beautiful landmarks, plenty of shops and ample opportunity for renourishment. It sounds good to me.

Waterstones on Piccadilly
I am a bookworm. Plain and simple and a fact that I could not deny even if I tried. Doesn't a five-story bookstore, with a perfect little restaurant on the top floor sound like heaven on earth for anyone who enjoys books? Well, that is Waterstones on Piccadilly street. With beautiful displays on every level and comfy couches where you can fall into the world of a new book, this is easily my favourite spot in all of London, and I think that every other book appreciator feels the same way. If books, however, happen not to be your thing, the rest of Piccadilly street is nothing but shop after shop where you can indulge your shopping fantasies. If it exists in the world, I do not doubt that you will find it on these shopping streets of London.

Buckingham Palace
Okay, this is another typical tourist spot, but again, it's something that I think everyone should see. The palace is a sight to behold no matter what time of year it is and is awe-inspiring at the worst of times. If you get your timing right, you may catch the changing of the guards, and while it is awe-inspiring, it is also quite intimidating. P.S. Trying to see if you can make the guards crack is something that many try and those same many fail so rather avoid annoying a guy who carries a gun for a living.

The Winter Wonderland
Now, this is something that you can only experience during the holiday season, but it is well worth the wait. Erected in Hyde Park, it is exactly the kind of place you can spend your whole day at. There are stalls selling ornaments, gifts, Christmas themed items and all sorts of unusual paraphernalia, so if you are short a few presents for friends or family then you should find them there. There are games and rides for the kids and kids at heart, and for those of us who are more lethargic, there are more food and drink stalls than you'd know what to do with. My favourite one happened to be a chocolate stall where you can dip just about anything in the hot and melty goodness or have a cup of the delicious goodness itself. It's perfect for the holiday and fun for everyone – I just hope that if you go, it doesn't rain you off the rides (but then again, who needs rides when you can drink chocolate?)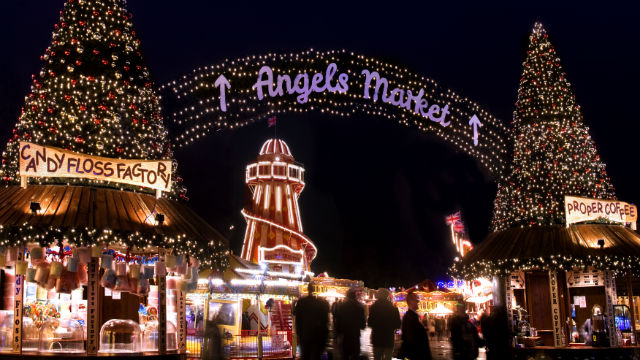 The United Kingdom, and London especially, may not be high on everyone's lists to travel to, and some of us may not even have travelling on the brain or the cards right now. That's okay! For those of you who do plan to visit though and are wondering if stopping through London is a good idea, let me tell you that it will not disappoint. Yes, this list is merely my top ten, but there is so much to see and do in London that no one should ever feel left out or bored. It is easy to get around, as the transport system is not hard to navigate, and if you get lost, you won't have to look far to find someone who will help you. I hope that you enjoyed this blog post, as I had a lot of fun writing it and thinking about all of these memories. If you have the time, please don't forget to like this post and share it with your friends, and subscribe if you haven't already so that you don't miss out on posts in the future. As always, you guys are incredible and such an inspiration to me.

Lots of Love
Blondey on a Mission xxx