Hello everyone! Today, I know I am talking about a topic that is not as common as topics I have spoken about before. But, from the beginning, I wanted this blog to be a place where I could share what I've learnt with others so that they might have an easier time in the future if they experience the same thing, and I thought that I wouldn't be doing this promise to myself justice if I didn't include this topic. Now what a lot of you might not know is that I am currently taking a gap year, having graduated high school at the end of 2018, and am filling my gap year with short courses — kind of to help me figure out what I'd like to study and do in the future. I recently came home from a short course at Oxford University in England and am about to leave for another short course at Stanford University in the USA. I am currently preparing for my Stanford trip, and I kept thinking back to all the practical things I had learnt while on my Oxford short course and I felt that this was something that someone else might need. After all, no instructions were lying around about how to handle a short course and so, for all of you who might need this advice in the future, or those who are considering signing up for a short course, I'd say go for it! Just make sure that you read some of this advice beforehand because I wish I'd had this before I left. At least I now have it for round two. So if a short course sounds like it would be in your future, I'd highly recommend just taking a quick skim read of this before you embark on your journey and I hope you enjoy!

Know what you need beforehand
So there may not be a list of instructions available for the whole short course experience, but you do usually get told a lot about the course itself before you sign up. You would also usually get a list of things that you need to pack for it, or anything specific that you need to bring. My advice is to make sure you know exactly what you need beforehand. Sometimes a course may not specify what to pack, so use your common sense. I'd highly recommend bringing your laptop and at least one notebook with stationery (just in case your laptop dies, or you happen to be in a class where paper notes are the only ones allowed). The benefits of knowing what you need before you leave far outweigh any cons because at least you will be prepared and not caught off guard. Check the general climate of where you are going in case you need to pack more for winter than for summer, and always be sure to have something formal tucked into your suitcase. Trust me when I say this, you will never regret overpreparing and knowing precisely what you potentially need because it is always better to have it and not need it than to need it and not have it.

Don't overpack!
On the other side of the coin from the last sentence I just made above, it is essential that you don't overpack. I know it sounds like a contradiction, but there is actually a difference between packing a few extra things that could be very useful and overpacking. Now, I know that it can sometimes be very hard not to overpack, especially when your trip is meant to be eight weeks or more, but you need to try and resist that urge. All that will end up happening is you will wear the same few outfits all the time, and the rest of the clothes will be left to gather dust in your suitcase until you leave. My advice to resist the urge to overpack is to pretend that you are just going for a ten-day holiday because that way, you will pack all the clothes that you will want to wear (and be smart about how much you pack) and won't pack anything that you don't want. You don't need to pack for more than "ten days" because you should have access to a washing machine. So, if you are an intrinsic over-packer like me, pretend you are just packing for a holiday instead of an extended stay, and you'll be surprised to find you won't overpack as much as you would otherwise.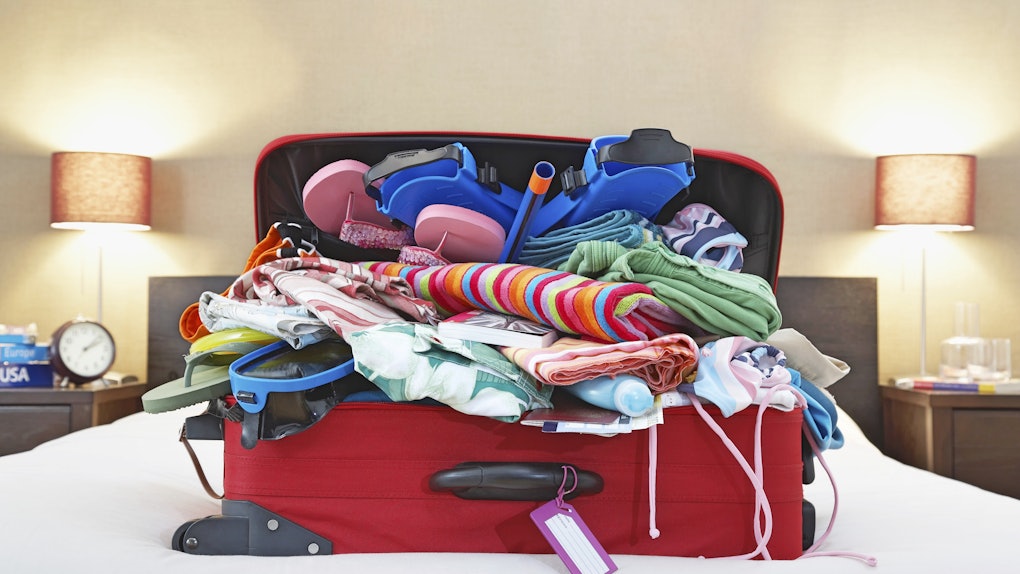 Get familiar with your surroundings
This one might seem obvious to some people, but sometimes we often don't get familiar with our surroundings because we know that we won't be there forever. So why bother? If you were on holiday, you wouldn't need to become super familiar with where you were because you'd only be there for a week. Well, that is not how you need to be thinking for your short course. When you go on a short course, you are living and studying in that place for a part of the year, so you can't be oblivious and sheltered the entire time. By getting familiar with your surroundings, you will be able to do things in your own stride and feel comfortable doing things on your own. Plus, wouldn't it feel cool to be able to give someone else directions in your home away from home? There isn't a good reason to not learn about your environment when you are on a short course, so take the time to figure out your new area. Who knows – you could discover some cool places that you wouldn't have found if you weren't exploring and learning.

Make some friends
This piece of advice is more to keep your sanity and to help with the transition. No man is an island, and that is even truer when you are away from home and in a place where you are expected to live for a few months. Making friends with some of the other people doing the short course (because you will not be the only person doing this short course – there will undoubtedly be other people for you to talk to) is a great way to make the experience more enjoyable. By making friends, you will have people to spend downtime with when you aren't working, and you won't have to worry about being alone or struggling because these new friends will be in the same position you are in. You could even make a life-long friend on this short course with the person across the dorm room hall from you, so even if you are an introvert like me, don't exclude yourself and try to make friends with the people around you. You never know how amazing that friendship could turn out until you make the first move to initiate it.

Work isn't everything
I can't believe I am saying this, so appreciate it now because I don't think it will ever happen again. On your short course, as much as you are there to do academic work, the work isn't everything. You are in an entirely new place where there are dozens of things to try, and as much as the work is essential, that doesn't mean that you have to spend every minute outside of class hauled up in your room doing homework or assessments. Now, this doesn't mean that doing your work isn't necessary (because it certainly is and this is no excuse to avoid doing it), but it doesn't have to be your sole focus while you are there. Try to achieve a good balance between work and play, and that way, you will be able to go home more satisfied with your time, and with a lot more pleasant memories. How I did this was trying to get as much of my work done during the week so that I could use my weekends to have fun and go out and explore Oxford city, but that might not work so well for you. Whatever method you prefer to use, balancing work and downtime is the only way you will have the most rewarding time you can, so try not to let one outshine the other okay?

Immerse yourself
This is probably some of the most excellent advice I got while I was on my short course and now I'd like to pass it on. You are living in a new place for a prolonged period, which means that there are lots of fun things to do that you might not be able to experience back at home. This short course is the opportunity to immerse yourself in everything that you possibly can. If the place you are studying at offers excursions, then sign up! Take some of your new friends out to try something offered in the city that you can only do there. You are lucky to call a new place your home for the time of the short course, so it would be silly not to try and do or learn as much in your new home as possible. And if you are going to say that there is nothing special to try, then why not just do something ordinary then with your new friends? Any old experience can be made fresh when you do it in a different place with different people, so take that downtime you have where you aren't slaving away over work, and enjoy immersing yourself in the new location.

Don't forget about home
Yes, it may seem fantastic to be getting away from home finally and to be able to live by yourself and not have to answer to parents shouting about various things you forgot to do. However, the thrill of being on your own can wear off quite soon and then, after you've shrunk half your clothes in the washing machine and you want nothing more than a home-cooked meal and your bed with your pillows, all you want is to be home with your parents again. Homesickness isn't a bad thing, but you mustn't let it ruin your time so instead, stay in contact with your family and friends. Keep them updated about what you've been doing and how things are and even though it isn't the same as telling them face-to-face, at least you can still tell them. It's great to immerse yourself and make new friends, but it is also important not to forget about home and all the people there who love and care for you, so make sure you take the time to tell them how you are doing. Not only will they appreciate it, but it will also just make you feel a lot better and happier, knowing that your family knows how you are and that you can still talk to them whenever you want.

Appreciate your time
Time flies, whether you are having fun or not, so as much as the days might go slowly in the beginning, don't let this fool you into thinking you have all the time in the world. The most important thing you can know about your time away is that it is going to fly past no matter what so you need to appreciate every minute you've got. Don't leave that cool-sounding activity to the last week – plan it as soon as you can for as soon as you can. Don't wait until the last day to go gift-shopping for your family, instead take a Saturday off with your friends and turn it into a fun outing. Appreciate the time you have in the beginning and make sure that you get everything done that you want to because before you know it, it will be time to pack up your suitcase and head home and time is not going to rewind itself so you can squeeze in that last activity. I know it sounds drastic, but try to get everything you want done before time slips away. You'll thank yourself for getting it all done when the last week rolls around, and you can happily say that you did everything you wanted to do.

Hone your independence
Being away from home can be an intimidating thought, especially when it is your first time living independently, but there is no better time to hone your independence than when you are on your short course. This is because you get the opportunity to live independently, but it also isn't forever, and you will be able to come home and be looked after again as soon as you are done. That is why you should take the opportunity to hone your independence in this 'sheltered situation'. If you've never done your laundry before, now is the time to learn. If you usually have meals cooked for you at home, then don't get microwave meals but take the effort to learn a few simple recipes. Test out what it is like to budget your money, do things yourself without asking your parents or getting advice and see how it goes. It is not so hard to become independent in this enjoyable environment, and if you are receptive to becoming independent, then you just might impress yourself with what you can accomplish. I can't tell you how proud I was of myself that I didn't shrink any of my clothes during my ten-week course. Not only that, but you'll appreciate having learnt these skills in this sheltered environment before going out and having to do it for real, because at least it won't be new and terrifying when there are more important things at stake.

Just enjoy yourself
To sum up everything I have said above, doing the short course and all of the things mentioned above are irrelevant if you don't enjoy yourself. It is an incredible opportunity to experience something like a short course in a foreign country, so make sure that you enjoy yourself while doing all of these things. That way, you will be able to look back on it happily because it was enjoyable. Yes, things might be tough, and you might experience challenges, but hey, that is life, and sometimes we can't escape those. The trick is to roll with those punches and find ways to make the experience fun and worthwhile for you. If you do that, then the short course will have been a phenomenal experience, and you will be able to leave happy knowing that you learnt so much while also having a good time.

So there you have it. Again, I know that not everyone will need this advice specifically for short courses, but that doesn't mean that you can't adapt it to other situations (like leaving for college or even just going on holiday). Besides that, I really hope that you all enjoyed this blog post and that if you do need this advice for going on a short course, that you find it helpful. Thank you all so much for reading – I really appreciate the fact that you all take the time out of your day to read my little blog. Please like this blog post if you enjoyed it by clicking the little star button, share it with your friends if you think they'd enjoy it and don't forget to subscribe so you don't miss out on any other future blog posts. As always, you guys are amazing!

Lots of Love
Blondey on a Mission xxx